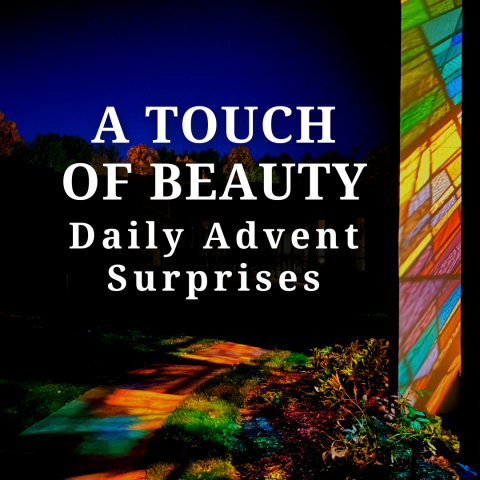 A Touch of Beauty: Daily Advent Surprises
*Registration closes Thursday, November 30 at midnight EST*
Description
*Registration closes Thursday, November 30 at midnight EST*
Journey with us this Advent: December 3 - 25
The Advent season is shaped by our longing and our listening. In hope, even within the dark and divisive forces in our world and in our own hearts, we search for Christ to be our light. The season of Advent resonates deep in the hearts of  true monastics – it is the season for searching ever more deeply for the God, the Light of the world, who is already seeking us.
We were so touched by the overwhelmingly positive response last year to Advent Journey of Beauty that we have decided to offer a second edition: a brand new day-by-day journey to the great feast of Christmas. "A Touch of Beauty" offers you a new surprise each day of Advent--it might be Scripture or art, music or poetry, a new recipe or a nature prompt. You will be able to touch that part of yourself that craves beauty, knowing its power to reveal "God-with-us" in marvelous ways.
Each day of Advent, you will receive this daily surprise to your email inbox, including gifts for a heart bent on seeking God. This shared Advent journey begins on Sunday, December 3 and ends on Christmas Day. It costs $30 to register and in return you will receive daily posts and connection with fellow seekers on this Advent Journey. 
**PLEASE NOTE: Must have an account with Monasteries of the Heart in order to sign up. Our website is currently not accepting Discover credit cards.