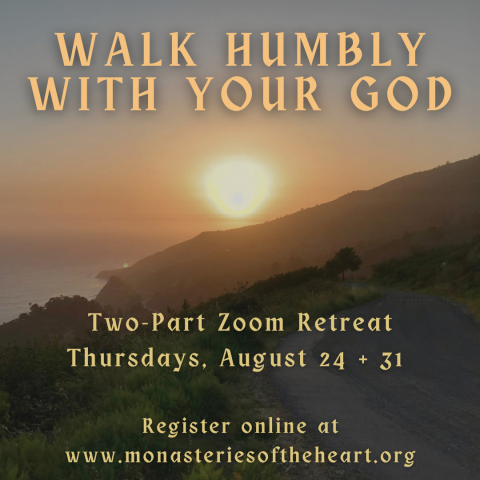 Walk Humbly with Your God
REGISTRATION HAS CLOSED
------------------------------------------
Description
REGISTRATION HAS CLOSED
------------------------------------------
Walk Humbly with Your God
Two-Part Zoom Retreat
Thursdays, August 24 + 31 
from 11am - 3pm ET 
What does God ask of you? 
Only this: that you act justly, that you love tenderly, 
that you walk humbly with your God. – Micah 6:6-8
The path to humility represents a vital chapter, indeed the cornerstone, of the Rule of Benedict. Nearly three years ago, Monasteries of the Heart sponsored a zoom retreat that introduced the twelve steps of humility that Benedict proposes. We invite you to join us once again as we explore more deeply and fully this monastic virtue of humility and what it demands of the followers of Benedict in today's world. 
This will be a two-part online retreat offered via Zoom on Thursday, August 24 and Thursday, August 31 from 11:00 AM to 3:00 PM EST. This two-part retreat will include presentations, small and large group discussions, and suggested exercises that will allow each of us to make this central teaching of Benedict more real and tangible to our own spiritual development.
We recommend that you have a pen and a journal or paper available for the retreat experience. For those who are unable to join us on these particular days and times, as well as for those who participated, a recording of the retreat experience will be accessible after September 1 and available for three months.
Mary Ellen Plumb, OSB, and Katie Gordon, Monasteries of the Heart staff members, will co-facilitate this experience. We invite you to join us as we explore how the monastic understanding of humility can lead and guide us into a fuller commitment to the monastic way of life with intention and clarity. Register for this two-part retreat for $55.
**Register by Wednesday, August 23 at 11pm ET to receive the zoom link information for the following day!**