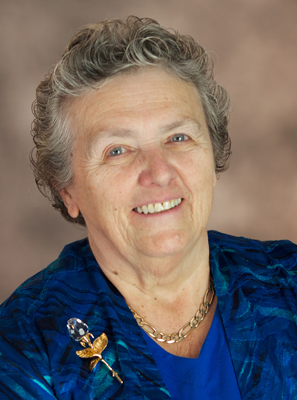 Joan Chittister, OSB
…is one of the most influential religious and social leaders of our time. She is the founder and animator of Monasteries of the Heart, a movement sharing Benedictine spirituality with contemporary seekers. Her book, The Monastery of the Heart: An Invitation to a Meaningful Life, is the core curriculum. For over 50 years, Joan has passionately advocated on behalf of peace, human rights, women's issues, and church renewal. A much sought-after speaker, counselor and clear voice that bridges across all religions, she is also a best-selling author of more than 60 books. A member of the Benedictine Sisters of Erie, Joan is also the executive director of Benetvision, a resource and research center for contemporary spirituality. Read more about Sister Joan's life and work here.
Mary Lou Kownacki, OSB (Nov. 29, 1941 – Jan. 6, 2023)
…was the Founding Director of Monasteries of the Heart and Benetvision Publishing until 2022. She lived and worked in inner-city Erie for 50 years, and in that time was instrumental in developing innovative programs that serve local neighborhoods. She co-founded Pax Center, a Christian community for nonviolence; Emmaus Ministries, a soup kitchen and food pantry; and the Inner-City Neighborhood Art House. She served as executive director of Benedictines for Peace, Alliance for International Monasticism (AIM) and of Pax Christi USA, the national Catholic peace movement.
A poet and award-winning author, Mary Lou's books include Old Monk (Benetvision), A Monk in the Inner City: The ABCs of a Spiritual Journey (Orbis), Between Two Souls: Conversations with Ryokan (Eerdmans), Peace is our Calling: Contemporary Monasticism and the Peace Movement (Benetvision)., and The Blue Heron and Thirty-seven Other Miracles (Benetvision). Mary Lou was a member of the Benedictine Sisters of Erie.
Anne McCarthy, OSB
…was on the Benetvision staff from 1994-1997 and then returned in 2006 after completing an MA in Theology from St. John's University, Collegeville, MN, in monastic studies. Currently, she directs Benetvision and Monasteries of the Heart and co-facilitates the Listening Hearts program. 
Anne coordinates Benedictines for Peace in Erie and leads retreats on nonviolence and monastic spirituality and contemplative prayer. around. Long involved in peace and justice ministry nationally and locally, Anne is a Pax Christi USA Ambassador of Peace. A Benedictine Sister of Erie, she helps as a nurse for her monastic community. 
Mary Ellen Plumb, OSB
…joined the Monasteries of the Heart staff in 2013 after 38 years in secondary education as a Social Studies teacher, Counselor and Director of Campus Ministry. A Benedictine Sister of Erie, Mary Ellen has served her community as Director of Monastic Formation, Novice and Scholastic Director, Oblate Director and a member of the Liturgy Committee and the Monastic Formation Committee. Presently, she serves as the community liturgist and a member of the Vocation Team as she continues as a staff member of Monasteries of the Heart part time.
At Monasteries of the Heart Mary Ellen helps plan and develop the monastic curriculum and is instrumental in preparing, posting and facilitating eCourses and Zoom retreats. She prepares and posts the Monastic Practices content, oversees the annual appeal and contributes occasionally to the staff blog. She is experienced as a retreat leader, a hospice chaplain and a motivational speaker.
Janice Etchison, Oblate
…is an Erie Benedictine Oblate and former participant in the Benedicta Reipp Program, a year-long live-in program with the Benedictine Sisters of Erie. She joined both the Benetvision and the Monasteries of the Heart staff in 2014 and currently serves as a liaison for the Joan Chittister Fund for Prisoners, designs the weekly Vision and Viewpoint newsletter for Benetvision and assists in keeping the office running smoothly.
Janice is an active participant in prison ministry and serves as treasurer for an local environmental group. Previously she was a Case Manager at St. Benedict Education Center and Project Assistant at Gannondale Residential Center for Girls. She has a grown daughter.
Linda Romey, OSB
…worked at Benetvision from 1997-2004. After a five-year stint as Director of Marketing and Advertising for the National Catholic Reporter in Kansas City, MO, she returned to Erie in 2010 and rejoined the Benetvision/Monasteries of the Heart staff as web developer, designer and finance manager until 2020 when she became Development and Communications Coordinator for the Benedictine Sisters of Erie, where she also serves on the Monastic Council. Linda is an organizer of the Being Benedictine movement, and occasionally writes for Global Sisters Report. She continues to manage finances for Benetvision and Monasteries of the Heart.
Linda recently completed ten years as treasurer for the Communio Internationalis Benedictinarum. Prior to entering the community she lived and worked in Colombia, South America, for seven years.
Katie Gordon
…first came to Monasteries of the Heart in the summer of 2019 as the Joan Chittister Intern. She is a graduate of Harvard Divinity School, where she studied religion, politics, and ethics. Katie helps manage the Monasteries of the Heart website, eCourses, blogs, and weekly newsletter. She also organizes online and in-person contemporary spiritual communities with efforts like Nuns & Nones, The Formation Project, and more.
Jacqueline Sanchez-Small, OSB
...began working for Benetvision and Monasteries of the Heart in 2017, after two years of contributing while in graduate school. She is currently a Scholastic with the Benedictine Sisters of Erie, and pursuing a Masters in Monastic Studies from St. John's University. Jacqueline primarily works with our sister organization, Benetvision, and compiles their weekly e-newsletter Vision & Viewpoint, inspired by Joan Chittister's writings.