Old Monk's Journal: Journal Entry 253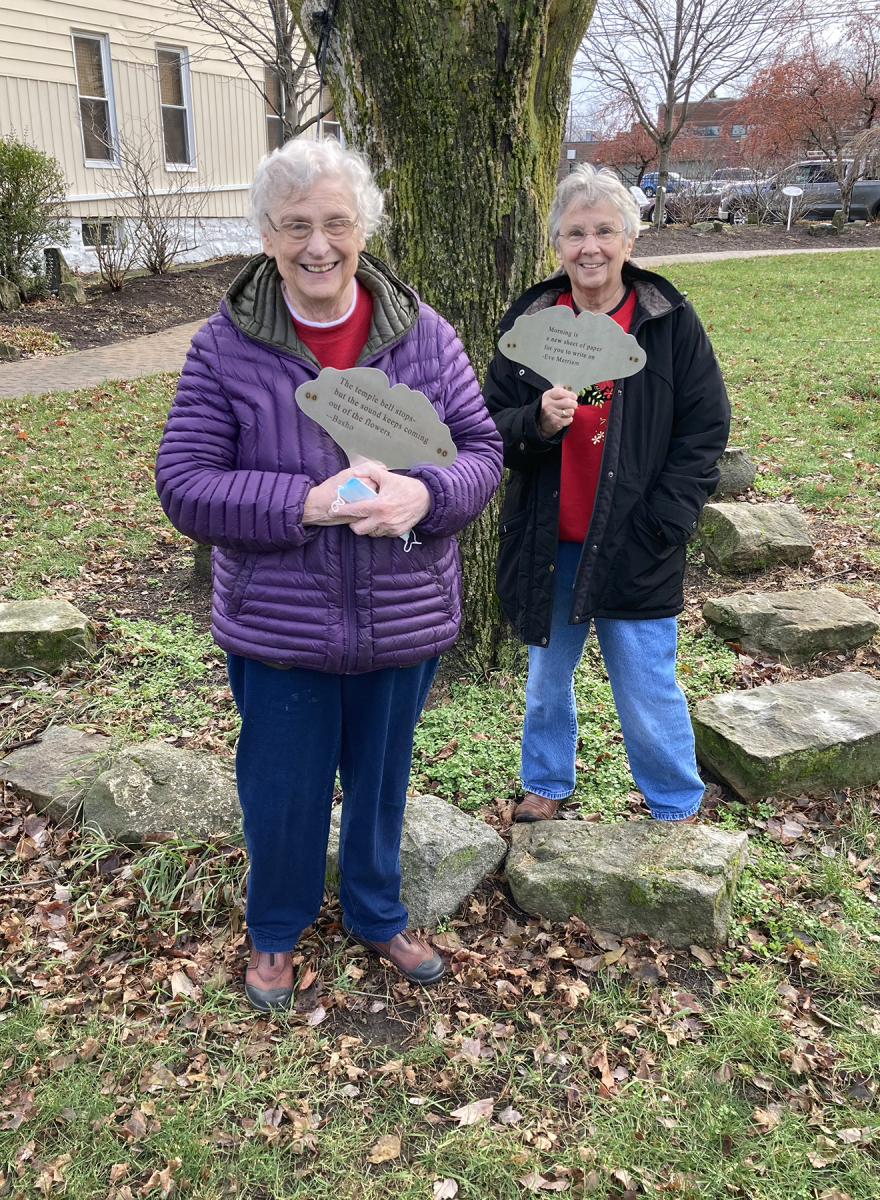 Just before the snows threatened to descend, I added 15, mostly three-line, poems to the Poetry Park located across the street from where Sister Mary Miller and I live. It was time for an update because someone donated to us a beautiful brick path that necessitated removing the old asphalt path on which were painted most of the poems that previously adorned our park. 
Each of the new poems is lasered on a steel Ginko leaf and bolted to one of the rocks scattered in the park.  Ginko is a Japanese term for 'haiku walk' and I got the idea from a much larger project that was installed in the outdoor museum at The Inn at Honey Run. 
"The temple bell stops--/but the sound keeps coming/ out of the flowers," is a poem inscribed by Basho on one of our Ginko leaves.  And on another, one by Issa, "Rest here/ Sleepy butterfly/I'll lend you my lap."
Under the oak tree in the center of the park is a long stone slab that now reads, "Tell me, what it is you plan to do/ with you one wild and precious life"--Mary Oliver.   And on the steps of the stone stage are the words:
Keep a poem in your pocket
And a picture in your head
And you'll never feel lonely
At night when you're in bed.'
       --Beatrice Schenck de Regniers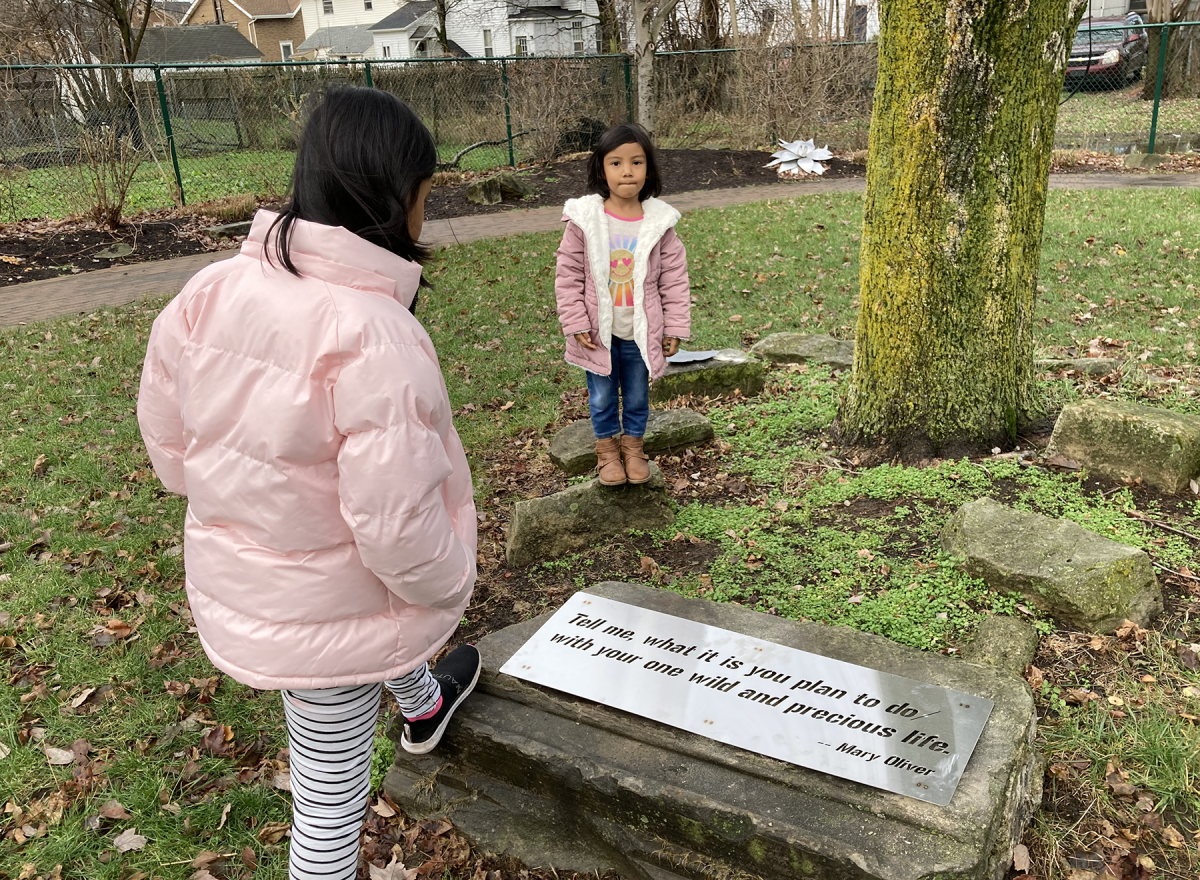 Sometimes when I'm standing at my front window I see a passerby enter the park. I watch them walk from poem to poem, reading them slowly, and I imagine them leaving the park a slightly different person, a bit softer of heart, perhaps.  And if not, the park is still a sign of the in-breaking of the reign of God on earth—right in the middle of an inner-city neighborhood, one of the poorest in the city, rises a toast to beauty and possibility.
Of course, I've always believed that people who were trying to leave the welfare system or transition from prison or rip themselves away from drugs or alcohol addiction should be given job training, yes, but a substantial part of their day—for which they would get paid—would be spent copying poems and inspirational words.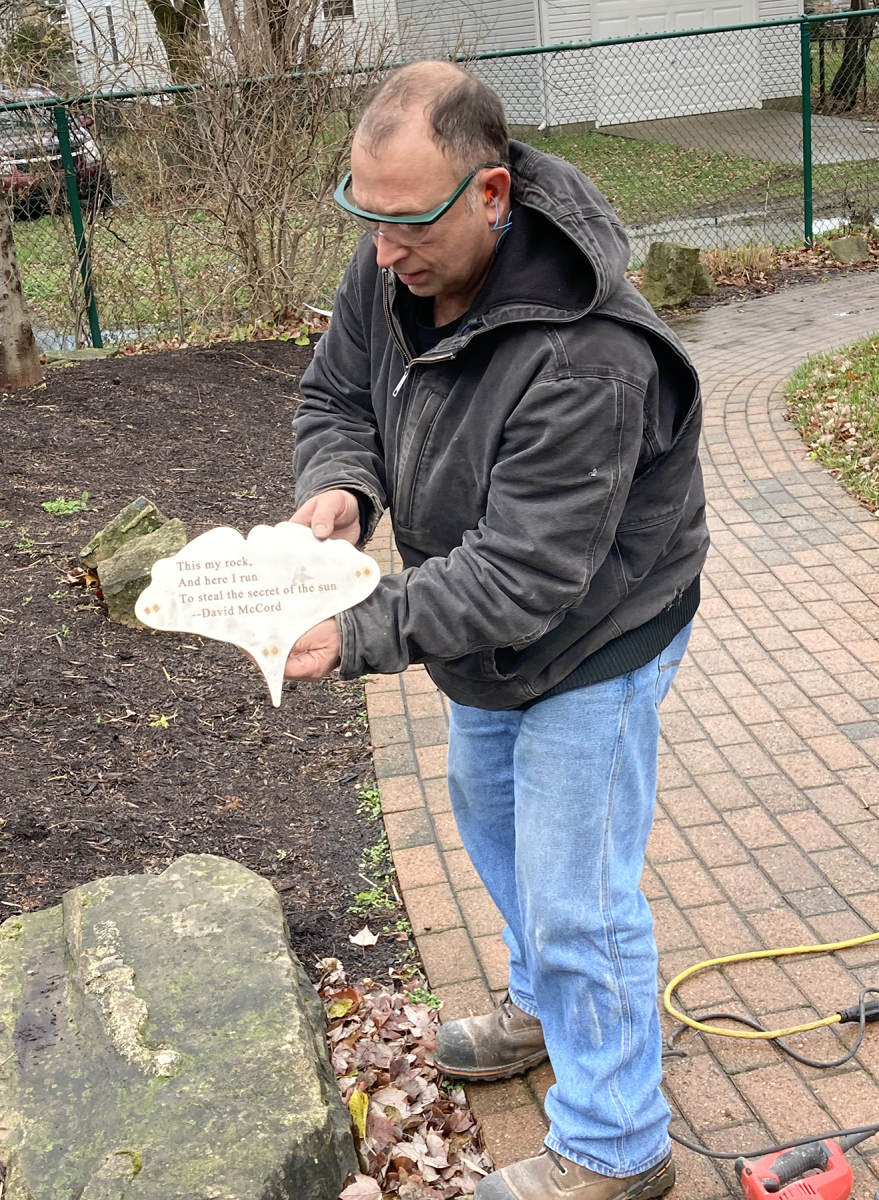 And they would work with local artists to mount these words in all manner of public places—telephone poles, sidewalks, outdoor steps, etc.  I believe exposure and engagement with poetry and beautiful words would have more soul transforming impact than preparing for a low-paying, monotonous job in an assembly-line factory or fastfood restaurant
Come spring, we are going to plant a Ginko tree in the park and one of Old Monk's haiku at its base.  I wouldn't mind being buried there.
++
I'm enjoying reading the January issue of The Monastic Way by Joan Chittister.    As many of you know, the monthly spiritual reflection by Sister Joan is now offered free.  Not only do you receive a PDF every month, but you can participate in a monthly zoom discussion on the issue with Sister Joan's staff and, three time a year, Sister Joan herself will host a zoom discussion.  Click here.
The January issue is titled "As TIME Goes By."  One of the discussion questions asked readers to find a quote, story, poem, song, art piece, that echoes the theme of time.  Here's one that I found and liked:
Imaginary Conversation
by Linda Pastan
You tell me to live each day
as if it were my last. This is in the kitchen
where before coffee I complain
of the day ahead—that obstacle race
of minutes and hours,
grocery stores and doctors.
But why the last? I ask. Why not
live each day as if it were the first—
all raw astonishment, Eve rubbing
her eyes awake that first morning,
the sun coming up
like an ingénue in the east?
You grind the coffee
with the small roar of a mind
trying to clear itself. I set
the table, glance out the window
where dew has baptized every
living surface.
  
I suppose my attraction to this poem is no surprise.  A terminal cancer diagnosis erases every concern but time.  But I liked the idea of living each day as if it were your first, not your last—makes all the difference.
++
I was grateful to be asked by Pax Christi USA to respond to the recent pastoral letter issued by Archbishop of Santa Fe, NM  on the urgent need for nuclear disarmament.  To read more about "Living in the Light of Christ's Peace: A Conversation Toward Nuclear Disarmament" click here.
To view or make comments you must be logged in to Monasteries of the Heart. If you are not yet a member, you can create a free membership account at now. A real person authenticates each new member account to avoid spam accounts so you will not have immediate access. As soon as your account is verified you will receive an email with further instructions.

A blog by Mary Lou Kownacki
A personal journal captures what's in the heart. Most of my adult life I've recorded my notes, brief reflections, poems, reactions to daily events in a journal. It is an ongoing source of monastic formation; the rich and raw material of life that helps shape my Monastery of the Heart. About a year ago, Old Monk began to appear on my journal's pages. Mary Lou Kownacki, OSB, is the Monasteries of the Heart coordinator.
| Previous Posts | Posted |
| --- | --- |
| Journal Entry 256 | Tue, 2022-08-30 08:35 |
| Journal Entry 255 | Tue, 2022-04-19 14:11 |
| Journal Entry 254 | Wed, 2022-01-26 13:38 |
| Journal Entry 253 | Mon, 2022-01-17 11:04 |
| Journal Entry 252 | Mon, 2021-12-06 11:49 |
| Journal Entry 251 | Mon, 2021-07-19 10:24 |
| Journal Entry 250 | Sat, 2021-05-29 13:57 |
| Journal Entry 249 | Fri, 2021-04-30 15:02 |
| Journal Entry 248 | Wed, 2021-04-28 09:21 |
| Journal Entry 247 | Mon, 2021-04-26 14:45 |
| Journal Entry 246 | Sat, 2021-04-24 12:49 |
| Journal Entry 245 | Wed, 2021-04-21 12:53 |
| Journal Entry 244 | Mon, 2021-04-19 09:56 |
| Journal Entry 243 | Sat, 2021-04-17 17:37 |
| Journal Entry 242 | Thu, 2021-04-15 07:15 |
| Journal Entry 241 | Tue, 2021-04-13 07:08 |
| Journal Entry 240 | Sun, 2021-04-11 08:34 |
| Journal Entry 239 | Fri, 2021-04-09 07:17 |
| Journal Entry 238 | Wed, 2021-04-07 07:58 |
| Journal Entry 237 | Mon, 2021-04-05 07:23 |
| Journal Entry 237 | Tue, 2021-03-30 11:05 |
| Journal Entry 236 | Thu, 2021-03-04 16:44 |
| Journal Entry 235 | Wed, 2021-02-10 10:51 |
| Journal Entry 234 | Thu, 2020-12-31 16:52 |